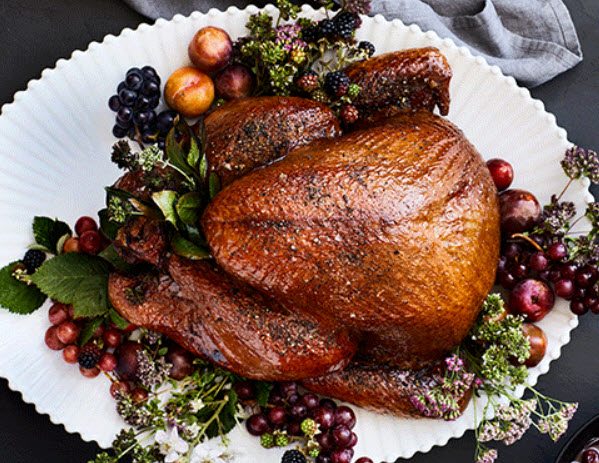 Williams Sonoma Culinary Classes
Now through November 19, 2017
Williams Sonoma Chefs' Collective Friendsgiving with Joshua McFadden + Ben Jabobsen

Thursday, November 2 at 6:30 PM

Chef Joshua McFadden of Portland's Ava Gene's restuarant created a casual feast that's perfect for sharing with friends. He collaborated with Ben Jacobsen of Jacobsen Salt Co., which harvests amazing sea salt along the Oregon coast. On the menu: turkey meatballs, mashed potatoes with celery root, and carrot pie.

Best of Williams Sonoma Thanksgiving: Turkey

Sunday, November 5 at 10:00 AM

Why mess with perfection? Using a receipe that's received rave reviews from our customers, we'll show you how to prepare a showstopping turkey. The secret: soak the bird in buttermilk brine before roasting.

Best of Williams Sonoma Thanksgiving: Desserts

Thursday, November 9 at 6:30 PM

When it comes to Thanksgiving desserts, we've got you covered with a crowd-pleasing pumpkin pie and other sweet treats. Nervous about making a crust? Trust us, it's as easy as pie!
Best of Williams Sonoma Thanksgiving: Side Dishes
Sunday, November 12 at 10:00 AM
While the turkey may be the star of the Thanksgiving feast, it's the side dishes that steal the show, and the more, the better. We'll share recipes that are customer favorites - they're sure to become must-haves in your household, too.
$30 per person includes a Lodge Cast Iron Pan (perfect for serving those Thanksgiving sides!)
All-Star Thanksgiving: Giada's Thanksgiving
Sunday, November 19 at 10:00 AM
Change up your Thanksgiving routine by cooking some fantastic recipes from chef and author Giada De Laurentiis. From a spiced stuffed turkey breast to smashed root vegetables and pumpkin-raisin cookies, she offers a fresh new take on the holiday feast.
Call 602-957-0430 for class times and more information.