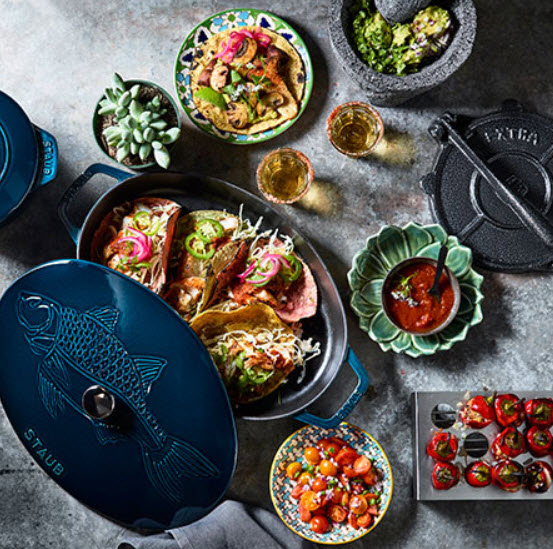 Williams Sonoma Grand Opening Events
Now through July 22, 2018
Hey Phoenix, Join Us For Our Grand Opening of Williams Sonoma Biltmore Fashion Park!
Come see our new store and celebrate with us! We'll have fun events, classes and product demonstrations to celebrate our grand opening.

Grand Opening Celebration featuring Flower Child
Friday, July 20 | 6:30-8:00 PM
The NEW Williams Sonoma Biltmore is opening and we can't wait for you to see it! Join us for our Grand Opening Celebration featuring deliciously fresh and natural bowls from Flower Child which we'll be pairing with chilled Rose! Plus 15% of our proceeds from the evening will benefit No Kid Hungry in their fight against childhood hunger.
Purchase tickets HERE.

Traeger Grills Pop Up
Friday, July 20 through Sunday, July 22 | 10:00-7:00 PM
Headquartered in Salt Lake City, Traeger Grills has redefined outdoor cooking with its convection-based Original Wood Pellet Grill. Using a combination of natural hardwood pellets and the precision of digital technology, Traeger grills offer the cooking versatility of a conventional oven with the delicious wood-fired flavor of an outdoor barbecue. Our friends from Traeger will be here all weekend long with delicious bites fresh from the grill and answers to all of your grilling questions!

Snooze Pancake Bar
Saturday, July 21 | 10:00-12:00 PM
At Snooze, innovative cooks evolve the A.M. experience with creative new twists on America's breakfast classics. We worked with their experts to create a mix that makes it easy to whip up their iconic pancakes at home in decadent flavors including Classic Buttermilk, Cinnamon Roll, and Pineapple Upside Down. YUM! Pop by our store to whip up a pancake at our Snooze Pancake Bar!

Williams Sonoma Local Market
Saturday, July 21 | 12:00-4:00 PM
Our community has so many incredible makers that live locally and we are excited to showcase them as part of the new Williams Sonoma Local. Shop their creations and meet the makers behind these locally produced products.

Pane Bianco Pop Up
Saturday, July 21 | 6:30-8:00 PM
Join us as we welcome our friends from Pane Bianco, one of our favorite local hot spots from our friend James Beard Award Winning chef Chris Bianco. Enjoy pizza and wine while you shop!

Williams Sonoma Home Designer Preview Event
Sunday, July 22 | 10:00-12:00 PM
Get inspired for summer as we preview our Williams Sonoma Home Summer Collection. Our Williams Sonoma Home Specialists will be sharing expert decorating tips (and champagne!)

Summer Favorites in the Instant Pot
Sunday, July 22 | 11:00-12:00 PM
We're back with more great recipes for that runaway hit, the Instant Pot. Our Fingerling Potato Salad and Strawberry Rhubarb Compote (served with Ice Cream) are perfect for summer gatherings.
$30 per person includes The Essential Instant Pot Cookbook!

While you're here, ENTER TO WIN a $1000 Shopping Spree to our beautiful new store!