---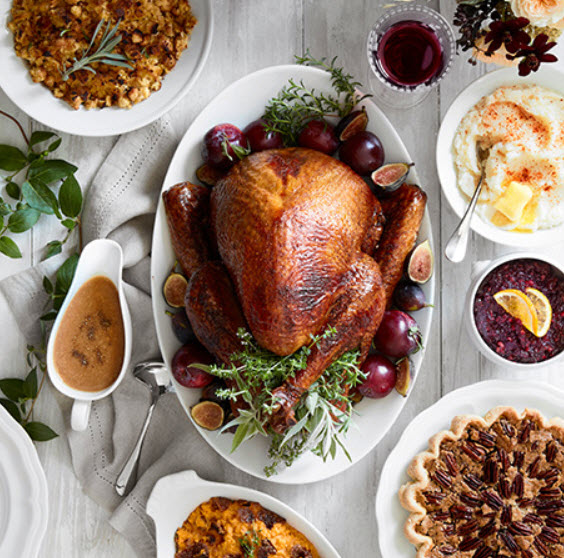 Learn to Make the Perfect Turkey

Sunday, November 4 at 11:00 AM

When it comes to the Thanksgiving turkey, we've nailed it! Our buttermilk-brined bird is a customer favorite, and it's easier to prepare than you might imagine. Join us and learn how.
Share the Best Desserts with Friends and Family
Thursday, November 8 at 6:30 PM

No matter how stuffed your Thanksgiving guests claim to be, they'll always have room for a slice (or two) of pie. Nervous about making a crust? We'll show you everything you need to know, and we promise, it's as easy as pie!
$30 per person includes a Pie Dish
Cook the Best Thanksgiving Side Dishes
Sunday, November 11 at 11:00 AM

If the side dishes are your favorite part of the holiday feast, this is the class for you! Learn how to make stellar sides that are guaranteed to steel the show. (Sorry, turkey!)
$30 per person includes a Goldtouch Roasting Kit
Ina Garten's Thanksgiving Dinner Party
Thursday, November 15 at 6:30 PM
Want to cook like a pro this Thanksgiving? Beloved Culinary Icon Ina Garten is an expert on making a Thanksgiving dinner that is simple and delicious with plenty of tips and tricks for preparing dishes ahead of time to make the big day more enjoyable with time to spend with friends and family. Join us and learn to prepare some of her classic Thanksgiving recipes!
$30 per person includes a copy of Ina Garten's Cook Like a Pro
Call 602-957-0430 for class times and more information.
Learn More >
Fall Concert Series
Now through November 24, 2018
Join us for a FREE concert on the Center Lawn Saturdays from 3:00-6:00 PM 10/27: Richard Palalay &...
lululemon Pilates Series
Now through November 17, 2018 | lululemon athletica
Break a sweat with lululemon for a special Pilates Series on the Center Lawn, every Saturday 10/20-1...