February Culinary Classes
---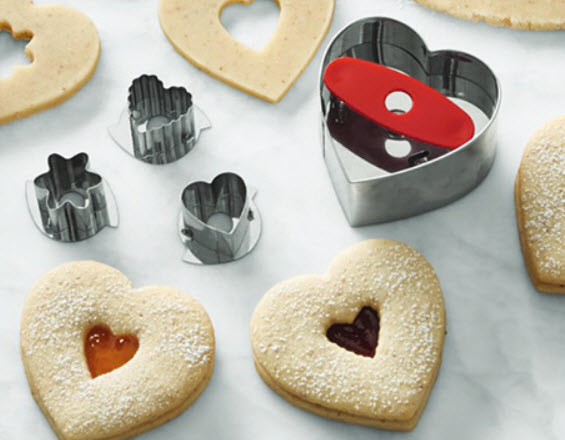 Bravo's Top Chef Valentine's Day Dinner Party | Thursday, February 7 at 6:30 PM
Not every couple has Top Chef-level cooking skills... and that's OK. When it comes to the much-anticipated Valentine's Day meal, the ideal date includes maximum romance — over a home-cooked meal, a candlelit restaurant table, or even just-right takeout. We've partnered with Bravo's Top Chef cheftestants to share their favorite recipes for wooing your date. Consider yourself set for a February 14 that will go down in date history.
Valentine's Day Linzer Cookies | Sunday, February 10 at 11:00 AM
Buttery, flaky, jam-filled Linzer cookies are the way to everyone's heart. Now they're easy to make with our cutters and our favorite roll-out cookie dough. Join us and learn how to make them just in time for Valentine's Day!

$30 per person, includes our Heart Linzer Cookie Cutter Set
Cooking with Cast Iron | Sunday, February 17 at 11:00 AM
Prized by restaurant chefs and home cooks for generations, cast-iron cookware is essential for any kitchen. It retains heat exceptionally well, making it ideal for braising one-pot meals, grilling meats and vegetables and so much more. Discover how to make the most of your cast-iron cookware and keep it in tip-top shape.
Air Fryer Favorites | Thursday, February 28 at 6:30 PM
Your favorite fried foods—from vegetable chips to traditional fries and doughnuts—are now guilt-free, thanks to the super popular Airfryer, which allows you to fry foods with little or no oil. This class includes the Williams Sonoma Airfryer Cookbook, featuring
delicious and surprisingly healthy recipes – from snacks to main dishes to desserts—that require minimal oil or no oil at all.

$30 per person, includes our Williams Sonoma Airfryer Cookbook
Call 602-957-0430 for class times and more information.
Learn More >
Movies in the Park
Now through February 23, 2019
Join us in the Center Lawn every Saturday in February 2019 for the return of Movies in the Park! U...
February Calendar of Events
Now through February 28, 2019 | Color Me Mine
Join Color Me Mine all month long for exciting pottery painting events! See flyer for full February ...